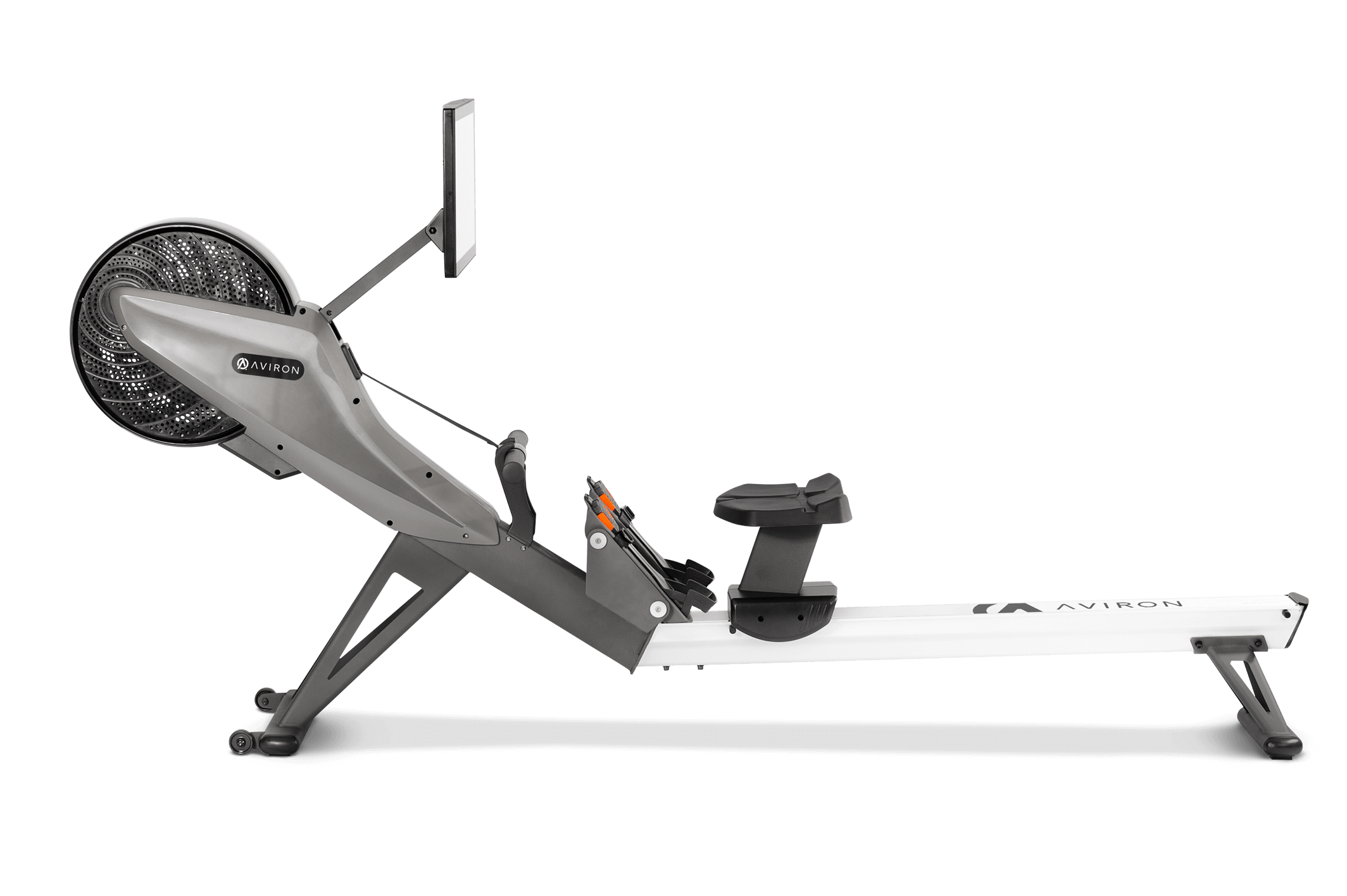 SCREEN
22" HD TOUCHSCREEN
4GB memory, 32 GB storage, Android OS, Wifi 802.11 b/g/n/ac, Bluetooth, 2MP camera, 2x5 watt speakers
CONSTRUCTION
REINFORCED
High strength steel and aluminum construction and double width reinforced rail for ultimate strength and stability.
RESISTANCE
DUAL AIR & MAGNETIC RESISTANCE
The smooth resistance delivered by the air system mimics the on-the-water feel, while the magnetic system provides exceptionally strong torque allowing for both strength and cardio workouts.
BEST IN CLASS RESISTANCE
16 levels of resistance. Levels 1-10 are recommended for cardio, while 11-16 allow for strength training exercises.
BELT
WHISPER NYLON BELT
The commercial grade whisper nylon belt operates at ~60 decibels, which is comparable to conversational volume, making the Aviron rowing experience both quiet and smooth.
SEAT
20" SEAT HEIGHT + LOW FRAME
Designed with a comfortable 20" seat height and the added bonus of a lower frame (10"). Step over the frame comfortably and no need to crouch to get on/off.
STORAGE
EASY TRANSPORTATION
This model does not fold. 2 wheels are located at the front for easy transportation.
ADJUSTABLE
ADJUSTABLE HIP/LEG WIDTH
Innovative feature exclusive to Aviron - adjust the width between feet, hips, and legs based on height/ body type to allow for maximum range of motion and comfort. Foot pad also adjustable for shoe size.
WEIGHT LIMIT
507 lbs. thanks to commercial grade bearings & double width rollers that also increase machine longevity.
HEIGHT LIMIT
Approximately 6'8 or 40" inseam
DIMENSIONS
98" x 21" x 44" (L x W x H)
DIMENSIONS FOLDED
The Tough Series model does not fold.
BACK SUPPORT
LUMBAR SUPPORT KIT
Compatible only with the Tough Series model. Best used for the active aging, assisted living and demographics with lower back concerns.
CERTIFICATION
FCC, CE & IC